SEMCO Teak Sealer
Long lasting natural looking protection. Lasts through the season and can be renewed without deep cleaning or stripping for years! Repels water without being slippery. Relieves the drudgery of constant teak maintenance. Known the world over as the best protection for teak. Available in 5 shades.
SEMCO Teak Cleaner
PART 1 dissolves dirt and old sealers.
PART 2 brightens teak and neutralizes Part 1.
TWO PART CLEANER is the simplest and most thorough way to clean teak. It deep cleansteak without harsh scrubbing to remove graying, fish blood, fuel stains and teak oils.
For more information on SEMCO Products please follow the link by clicking on the photo.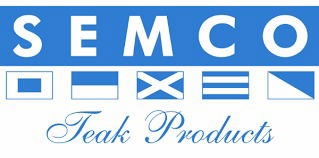 Buy Now : Visit our Chandlery E-SHOP